Mr. Thomas cashes into Musselman
Mr. Thomas is the new business and marketing teacher. He has taken the place of the previous teacher, Mrs. Beddow, who now works as head librarian. Mr. Thomas has worked in business for 14 years; however, this is his first year teaching in his life. His work experience includes bowling centers in Glen Burnie and Laurel, Maryland. He was a general manager for both, and where those companies earned over 15 million dollars a year in revenue.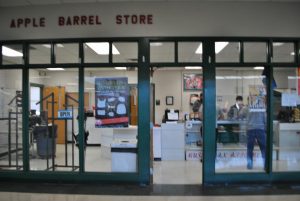 Although Mr. Thomas was making fat stacks, he had a reason for leaving these profitable positions behind: his family. He became a teacher because he wanted to be closer to family. Being a general manager of both companies caused him not to be around much for his wife and kids. He decided to teach here because of not only the wonderful community, but also its rich history. He also has familial roots and originates from the area.
Also as the new business and marketing teacher he is currently in charge of the school store. For those who do not know what the school store is, it is a place located  by the cafeteria where students can bring money during lunch. As long as you have enough money, you can buy anything you want at an unlimited amount. Some of the things you can purchase at the school store are flavored water, snacks, and the newest addition: hot pockets. The hot pockets come in two flavors: ham and cheese and pepperoni pizza, and both cost two dollars. They currently have a promotion going on where with every goldfish packet bought, 25 cents go to the choir department.
Mr. Thomas, when asked if any other new things would be coming to the school store he stated, "The county is purchasing our very own school store heat press so we can start making our own T-shirts. I plan on extending this to clubs where the school store will buy the t-shirts and the decals, and me and my students will sell the T-shirts as a fundraiser for each club. The school store will keep the cost and some of the profit, and the rest will go to the clubs."
He also stated that he plans to allow students to request their own shirts. The students from his class will get an order form, and then those students will then go out and collect shirt orders via the form. Then once the order is filled, the shirt will be delivered to whomever ordered it.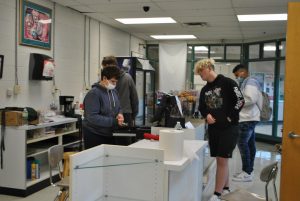 Mr. Thomas also runs two clubs. The first club is DECA, which is a club all about business related activities. However, the second club is vastly different, for it is an Esport club. According to Mr. Thomas colleges are now offering scholarships for professional Esport games. In fact, he also claimed that some colleges, and perhaps even our own high school, will have their own Esport team. Esports includes games such as Overwatch, Fortnite, and COD etc. This club currently meets on A days in room 501 and it takes place during the first 45 minutes of 2nd period.