Mrs. Shirley's "Creativity For Change" Club brightens school environment
Musselman High has always had nice bathrooms, nothing out of the ordinary, but maybe it would be nice to try something new and redecorate. That's exactly what Mrs. Shirley, a painting teacher here at MuHS believes with a new club called "Creativity For Change."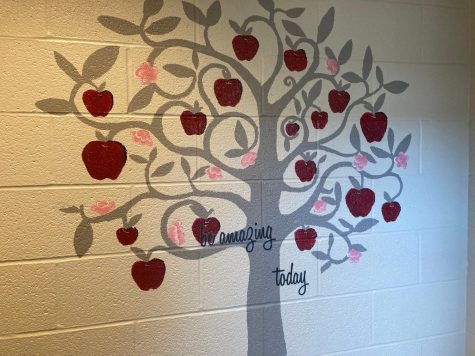 Mrs. Shirley is new to the staff here at Musselman High school, but not a stranger to its' halls as she is a former graduate of the school. Prior to her time here, she originally taught at  Bunker Hill elementary. She worked there for about 20 years and taught 3rd grade art.
Although this is her first year teaching at MuHs, Mrs. Shirley has made her own mark with a new club called "Creativity For Change." In this club, students go around being creative by painting and decorating etc, but with a purpose to fix or brighten up areas in the school. Currently, anyone can join, but the group will be capped once too many join. When asked why she wanted to create this club, Mrs. Shirley stated, " I want kids to take pride in school and make the school their own." Mrs. Shirley also stated that her goal for the club was for students to move into other areas of school, and still succeed in all areas.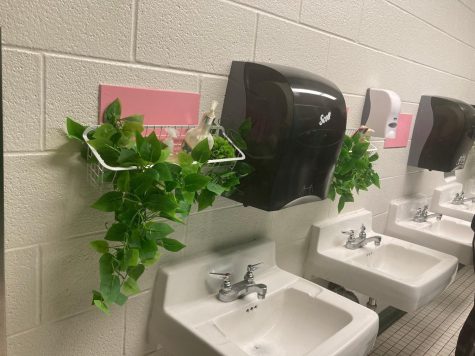 The first major project that the "Creativity For Change" club has completed is sprucing up the cafeteria girls restroom. Greenery, artwork, nice smelling soaps and lotions can all be found in that bathroom due to the work of the group. Students who were interviewed at lunch about the change stated, "I think when things look as nice as they do now with the decorations and the other nice touches, it makes it a more inviting and safe environment. Nobody wants to go to a stinky smelly bathroom." All student responses gave off the same positive response at the change.
The "Creativity For Change" club is looking forward to their next project where they plan to work on the girl's history wing bathroom. They plan to take on the boys bathrooms next year, and we at the Cider Press look forward to these positive creative changes.