Let's Ride: The man that started it all
If you use TikTok, a social media app platform, you might have heard the phrase "Musselman nation, let's ride!" a time or two. These TikTok's have added to the sense of Musselman school pride, and they are all thanks to MuHS assistant principal, Mr. Golebiewski (Mr. G). The Cider Press sat down for an interview with Mr. G to learn a bit about how these TikTok's came to be.
Q: What made you start social media?
A: "It was sort of a spontaneous moment, and I've been on TikTok scrolling through but never made anything. Then I was pumped up for a football game, and watched Russel Wilson say, 'Let's ride' and I thought I could do better than him. Then I made a TikTok saying "Musselman nation, let's ride!" and the video kind of blew up. Now I can't stop."
Q: What social media platforms are you on?
A: "I've been on Facebook since '07, I'm on Instagram, TikTok, of course, and I had Snapchat, but didn't really understand it, so I deleted it."
Q: Do you enjoy posting?
A: "I do, I do. I think people underestimate how much work goes into posting. I had to put in more work for my "Teenage Dirtbag" TikTok video. I really appreciate all the time that goes into every video that people make.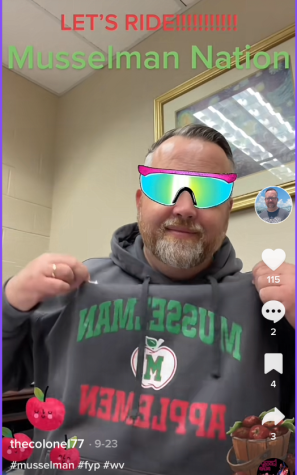 Q: Is there a goal with posting?
A: "I didn't have a goal. I just started doing it as something I thought would be fun. I sent my first "Let's Ride" video to the staff around the school to hype them up for the game later that night. I post to show school spirit and to spread a positive vibe around. I don't have a goal per say, but I do it because it's fun and positive."
Q: What do you think the students think?
A: "They probably think I'm goofy. I'm old…I guess I'm old to these students, but I think it's a great way to show Musselman spirit. I get comments on my videos of other students from other schools saying how they wish their staff did this, or how fun our school looks. I like those omments. Of course, I get some hate from sports rivals but that's all fun.When I post videos I try to keep them as simple as possible. I'm going to try to build and see what happens."
Q: Are you looking to have any staff join you?
A: "The staff want nothing to do with it. It's really just students with me, or I get my daughter to make some with me. If I could get some staff members I would. It's my own little thing and I'll probably keep it that way for a bit.