Cooking It Up with the Cooks
At Musselman, students get served food every day by the same people but many have no clue how much time and effort goes into it. The cooks who operate and run our school's kitchen are stand out staff that deserve recognition for all the work they do.
The Cider Press took time to interview a few of the cooking staff to gain insight into the ins and outs of their days and learn a bit about them.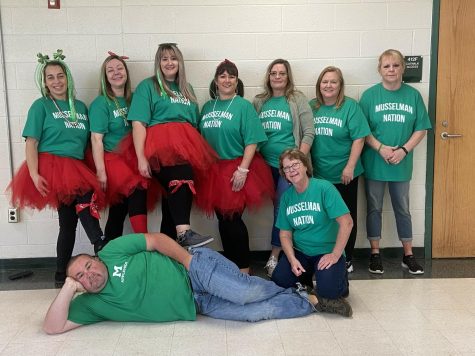 Ms. Simons
Q: How long have you been at Musselman?
A: "November of last year, they immediately made me the head cook because that is the position I applied for. I have been working for the county for 15 years and have been cooking for 20 years."
Q: What are the roles and responsibilities that are required for the head cook?
A: "They are extensive and include ordering food for lunch and breakfast, keeping track of orders and receiving checks, day to day phone calls, trucks, and a lot of communication."
Q: What's something about yourself ?
A:"I love hot rods, and just love fast fast cars."
Ms. Kirby
Q: How long have you been at Musselman?
A: "I've been here for four years and I love it!"
Q: What are the preparations you take before a day begins?
A:"To make sure everything is ready for the day to start, we are constantly running around putting stuff in the freezer/ fridge and oven. We also have to get prep done for the next day and we have to unload stock trucks. The worst thing about doing it is taking the heavy boxes, putting it in the right spot, then breaking down the boxes and throwing it in the dumpster, it might not sound like a lot, but it's hard work that wears you down."
Q: We asked was what made you want to be a cook?
A: "I wanted to become a cook because of the hours and this job makes it possible to be with my family and kids more. I get weekends off with them, snow days, summer break, etc. We are on the same schedule so it makes life so much easier. We work from 6:30 a.m. to 1:30 p.m., so we are here before all the students and some teachers, then we leave after the last lunch ends and we have done all that needs to be done."
Q: How has being a cook affected your life?
A: "Making awesome friendships with the other people I work with and that makes me not want to leave.
Mr. Engle
Q: What's your favorite menu item to cook?
A: "By far my favorite menu item to cook is good old salisbury steak."
Q: Do you feel like you get recognized enough for what you do?
A:"Work is not supposed to get recognized. It's a job."
Q: What made you want to be a cook?
A: "Growing up we used to have big family gatherings. Watching my mom and grandma cooking and watching the food network played into it as well. I also enjoyed cooking in Ms. Busey's class when I was in school."
Ms. Cook
Q: How long have you been at Musselman?
A: "I have been here one year and have loved it."
Q: What do you like doing outside of work?
A:"I love spending time with my family when not working."
Q: Do you think students appreciate the work you do?
A: "I do think the students appreciate what we cook because a majority of the students are so much more respectful than other schools I've been at."