Local Curiosity has ties to Mussleman
If you have been around Bunker Hill often, you may have seen an odd stone structure standing on Route 11 a few feet past Henshaw Road. This finely engraved stone slab is honoring Colonel Morgan Morgan; however, little do people know, there is a sign nearby that connects the location to Musselman history.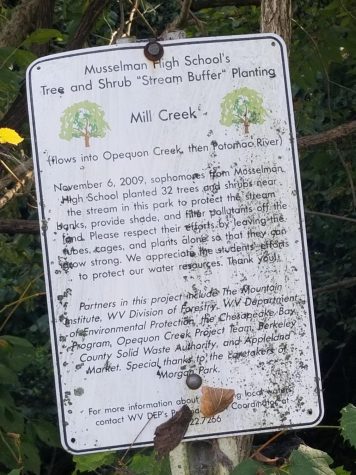 The sign is located in an area unofficially titled Morgan Park due to the Morgan Morgan Monument. This sign states that the sophomore class of 2009 donated 50 shrubs and bushes to the area which was overseen by Deb Stevens, a former environmental science teacher and leader of the environmental club at MuHS.
Mrs. Stevens would often take her kids around the school grounds to plant trees and eventually decided she wanted to do something more for the community Remembering the monument wasn't too far away, she took a large group of kids to participate in the project from the school. Not only did the environmental club participate in this but also the environmental science classes at the time.
The classes and clubs figured that by planting the trees, the flooding the park commonly received would be reduced. While the project was finished, the event itself was Mrs. Stevens' last major project before her early retirement.
The monument near the sign was constructed on September 13, 1924. It was named after an American Pioneer of Welsh descent who was the first European to settle in what would later become West Virginia. A descendant of Colonel Morgan donated money to have the structure built. The sign is still there to this day, and the park is actively maintained and taken care of by Berkeley County instead of the state who owned it prior.
With a small walking trail and a creek to go wade in, the sign can be found right beside this serene area. There are plenty of activities that you can do at this monument. From picnics to leisurely strolls, as well as fishing and wading in the creek, there is something for everyone to find enjoyable. Take time to get out there and honor a place that is a part of our history as not only a county, but also a school.