Applemen Varsity Football wins on First Home Game of the Season
Friday, September, 23rd was the first home game for our Musselman varsity football team. The Applemen faced off against the Morgantown Mohigans who we lost to last season.
Before the game we interviewed, Coach Thomas, the varsity head coach, who has been coaching for 16 years. He started as an assistant coach on varsity while being the head coach for the junior varsity and has now been the head coach for 10 years.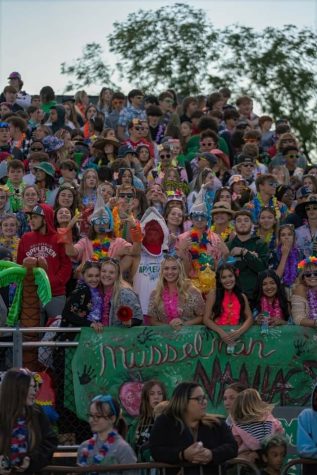 He believed Musselman would win. Coach Thomas stated, "The team's strengths are their ability to handle things and be mentally strong." He felt good about the team this year and thinks there is a playoff team. His prediction was correct for the first home game.
The game environment was full of energy as before kick off started the crowd was packed, the fans excited, and the student section loud and ready to cheer on the team.
First play of the game, the Applemen got a kick return right off the bat and started off with a score of 7-0. Morgantown returned with a touchdown of their own later in the quarter.
As he second quarter began, the Appleman scored once again putting them up another 7 as they converted on their field goal.Musselman and Morgantown went back and forth until the Mohigans scored tying it up, 14-14, but not for long as five minutes before the end of the quarter the Appleman scored putting them up by 7 going into halftime.
Both teams had a slow start in the second half but eventually the score was 28-33 with Morgantown in the lead with a minute left. Ray Adams, senior quarterback, maked a connection in the end zone followed by a two point conversion to cinch the win for our Applemen!