New Head Principal plans to bring MuHS "Back to Basics"
Mrs. Riggleman is the new principal at Musselman High School. She took the reins after Mrs. Kleppner departed from the head position in late November. She previously worked as a teacher before coming to MuHs and worked as a counselor for 10 years. Eventually she was assigned as the assistant principal for the past four years. She became the temporary principal for the second half of the year until last month when she moved to the position permanently.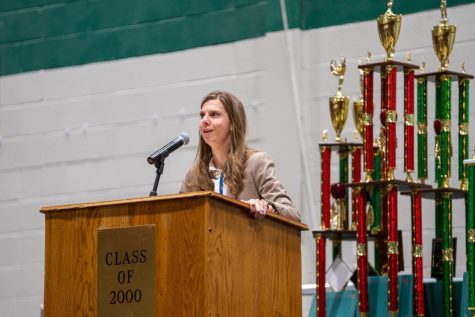 When asked what her plans for the school were, she stated, "First of all back to basics. Our students have had so much taken away from them with covid. We were brick and click (going) in and out of the building. So my number one priority is for our Applemen to know the culture, (and) traditions of what makes Musselman High School, Musselman High School." This will be done by bringing back old traditions that had not been done since 2020 when Covid-19 had first come about. This has been seen from the recent end of the year events that many of the current student body have never experienced such as Lol-Apple-Loza, Step Up Day, and even a traditional graduation soon to be.  This is the start of the new era of Musselman High School.
Some of Riggleman's top priorities she plans to strive for is to enrich the experience of high school, help prepare students to be college and career ready, and to make the students better people when they graduate than when they first entered the building. She wants to expand the bakery program as well, potentially bringing in a second baking teacher with a second classroom to help accommodate more students who wish to take the class. She also hopes to add additional college and career classes for next year as well. This includes English 101, a basic class for college students. All in all this next year will be the start of her new role and all the responsibilities that comes with it. We at the Cider Press wish her well in her promising plans for the future of MuHS.