TikTok famous: Appleman use app to express through dance
Two of our seniors here at MUHS have made a TikTok dance platform together, and have gained a massive following. Michelle Alcaron and Tyler Mason share an account where they post semi-regular content related to dance. Michele and Tyler are just two of billions of people around the world using the app to share creative content with the world, especially dance.
TikTok is currently a worldwide trending app. Formerly known as Musical.ly until August 2018 when it was taken over by a Chinese company, ByteDance. Tyler stated, "I started dancing around 7th grade but I didn't start posting videos when TikTok was still Musical.ly in 8th/9th grade."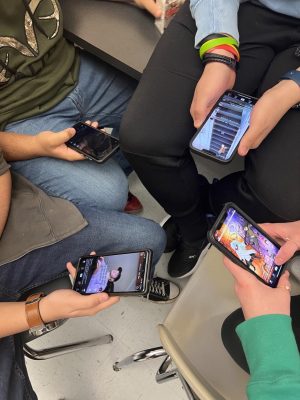 TikTok's popularity has been growing tremendously over the last several years. Users can post 15-60 second videos of art, lip syncing, dancing, acting, hands-on activities, and so much more. With recent world events, such as COVID, a common feeling in society today is feeling lonely or left out. With TikTok, users can express themselves and meet thousands of people worldwide that share the same interests as you. It was during this time that Michelle and Tyler found huge success.
Michelle, the other half of the dancing duo, stated, "Dancing is a form of expression for me, and definitely brings a sense of comfort to my everyday life. I believe everyone has something that's 'their thing,' just like dancing and music is my thing. I have passions for other things but dancing was always something that came naturally to me from a very young age, not something that I needed to constantly be thinking about. It's almost like an instinct if that makes sense." It's what makes Michelle so interested in dancing, and the app has allowed her and Tyler to continue the passion and love of the art form.
Michelle and Tyler do plan to continue using the app; however, life will cause some pauses in its use. Michelle explained,  "We plan to dedicate more time to dancing, like we used to. With school and all of our extracurriculars, we're really busy and don't have much time or energy to post every single day, although we do try. A problem that we also have is the fact that TikTok gets very repetitive and the trends are all the same. It's hard for Tyler and I to find a dance that we actually enjoy because we're picky people. Plus, many of the dances we post, we have learned from other creators. Once we have time during the summer, we hope to be able to create our own choreography more consistently. What happens while we're at college is probably just going to be played by ear."
When asked what they think their account has done for people, Michelle stated, "I can't really say that Tyler and I's dancing TikTok account has deeply affected or moved people. At the end of the day, we post snippets of our life and what we do, it's nothing too special. However, I do believe him and I can be entertaining to watch, especially to those who appreciate the arts. That's enough for us."