Understanding the Diversity of the Holidays
As the holiday season rolls around, many people have their traditions and personalized celebrations that they follow to honor their beliefs and heritage. Most commonly Christmas or the celebration of Christian beliefs seems to be at the forefront of the December month, however, there are many beliefs and religious practices that seem to be overshadowed within this time. Taking the time to listen and learn about those beliefs and religions helps everyone to be mindful and educated about those in their communities.
The first mentionable religious practice that occurred during this time is the Jewish celebration of Hanukkah. Hanukkah is an eight-day celebration, starting on December 18th and ending on December 26th. Burning eight wicked oil-based candles within this time celebrates the miracle of the original oil candle. Each candle symbolizes the days the original candle was burnt, and small gifts will be shared each day.
Another religion that does not have much recognition is the Muslim religion. The Muslim religion can be summed up as believing in one all-powerful god and many other prophets, they however do not celebrate in the month of December. Muslims believe thoroughly in the act of helping others and giving back to the world, and as a result, most do donate in the month of December to food drives and other places that provide necessities to those in need.
Muslims, however, do celebrate the holiday of Ramadan in the spring. Ramadan consists of not eating between the times when the sun is up to pay homage to their privileges and their god. When Muslims do eat in the darker hours, it usually consists of a large feast within their family, and during this time they also donate to charities.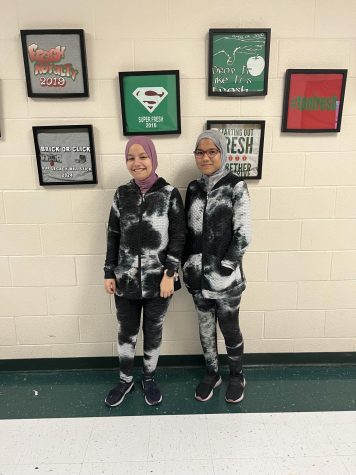 Two freshman students at Musselman High School, Mariam and Reem Abdelaal, celebrate Ramadan.
"We celebrate Ramadan by fasting during sun up to sun down. After the sun sets, we have a big meal with family. We also invite those that are not fortunate to have food to partake in the feast," stated Mariam.
Another celebration in the December months is Kwanzaa. Kwanzaa is celebrated by African Americans within America as a celebration of their culture and a mourning of the history of their ancestors and the racial discrimination they have experienced.
Kwanzaa, which was created in 1966, lasts a week long and is celebrated by music, dancing, storytelling, and preparation of traditional African food. Kwanzaa also can be celebrated alongside any other religious background.
The conclusive reason why we all should educate ourselves on these traditions, holidays, and beliefs is to gain a wider understanding of each other. Oftentimes we are spoon-fed one perspective which leads commonly to ignorance which can manifest itself into hate. To prevent this, we as people need to help one another about understanding the world's differences and coming to an acceptance of them.