Homecoming Game Brings the End to the 2021 Musselman Football Season
Chloe Womble, Sports Journalist, Photographer
November 9, 2021
Ra! Ra! Ra! It was spirit week at Musselman High School last week. A wonderful way to end the week was our homecoming game. This was not only the homecoming game, but the game shared senior night as well. The Applemen faced the Big Reds from Parkersburg, West Virginia. Both teams came into the matchup 3-7. The final score was 56-52 and the Big Reds came out on top. The Applemen's final record was 3-7. The goal was to see improvement this year and everyone who saw these boys play saw growth. This game was the last time the seniors would play as Musselman Applemen. I talked to some players and the coaches to see what they had to say about their time on the team.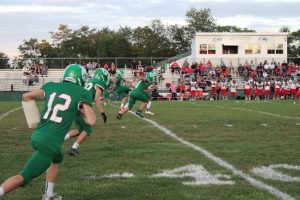 First, up is senior player #23 Brandon Berry. He plays corner back on defense. Brandon was not able to play more than half of the season due to an elbow injury during the first regular season game.
Q: How was your football season since you could not participate?
A(Berry): I went undefeated while I was able to play. The most important part is he ain't catch it though. Let's Go Brandon!
Q: How has football influenced your life?
A(Berry): It has always given me a place to take out my emotions on other people.
Q: What do you want to say to your coaches and team before you go?
A(Berry): Thanks for making me a better person moving forward.
The next senior player is #5 Nathan La Liberte. He plays quarterback on offense. He also had a knee injury costing him half of the season. He ended up playing the last 6 games of the season.
Q: What is your favorite memory from the past four football seasons?
A(Liberte): The Parkersburg South trip my sophomore year.
Q: Before you hurt your knee, you played offense and defense. Which one did you like more and why?
A(Liberte): I like offense because helping score touchdowns is cool.
Q: What do you want to say to your coaches and team before you go?
A(Liberte): Thank you for giving me an opportunity and place to grow as an athlete and a person.
Next up is #15, a defensive end, Conner Long. He played on the team his freshman year and senior year. He also plays varsity basketball for Musselman.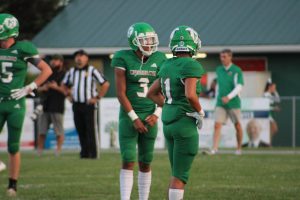 Q: What is your favorite pre-game song?
A(Long): Same Ol' Situation by Motley Crue
Q: Is there a coach or athlete you look up to, and why do you look up to them?
A(Long): My dad because he has always pushed me to become a better person and athlete
Q: Before you leave, is there anything you want to say to your coaches and team?
A(Long): I want to thank them for welcoming me back for my final year.
Our final player I got the chance to chat with is #52 Jaiden Bunny. He has played for the past four years. His position is an offensive guard and a defensive tackle.
Q: What is the best piece of advice you have gained from a coach, and who gave you the advice?
A(Bunny): You will never regret working hard. I feel like all the coaches have said that at some point.
Q: What is your pre-game routine?
A(Bunny): I get taped up for the game, listen to my favorite music, we walk the field, I walk through all
my plays in my head, and just get ready for the game.
Q: Before your last game is there anything you want to say to your coaches and teammates?
A(Bunny): To the coaches I would say thank you for always doing their best to have us prepared for our
games. To the team I wish we had been tighter knit and took trivial things more seriously throughout the
year.
After catching up with the boys, I talked to Coach Thomas and Coach Smith.
Q: Is there anything you want to say to the 16 seniors graduating this year?
A(Thomas): From a football standpoint I appreciate the time and effort they put in. From a life standpoint hopefully, they learned through the years how to face adversity when it comes. That is one of the lessons are programs try to pass on.
A(Smith): You will never regret working hard. In the moment it may not be fun, but chances are it will be a positive because you will see improvement, and that is why they saw improvement this year.