Last Regular Season Home Game Winner: Senior Night
It was senior night for the Musselman boys varsity basketball team. They all started as freshmen and have worked hard to get to this point, as they've watched the seniors that have come before them. It all started in the locker room where they signed the alumni wall which is a piece of our old gym flooring that now is getting signed by seniors from here on out. This tradition has only just begun but hopefully it lives on forever. As each senior walks out with loved ones by their side, a younger teammate presents them with a ball with everyone's signature on it.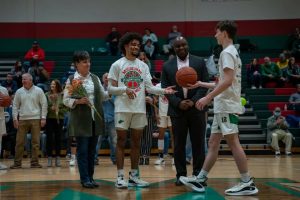 As warmups begin, Isaiah Horner lead us out. Isaiah, a senior player, sadly has been injured since the last offseason so he has not seen the floor at all this year. The warmups go by and the team is pumped and ready to face Washington High School. As tip off begins, they're all so excited and realizing this is the last regular season game they'll play on this floor so they'll have to win. A little time goes by and Musselman is disappointed the score is 10-2 Musselman down.
Coach Basile calls timeout and after it seems they've turned it around. At the end of the first quarter it is 10-9 Musselman still down but not out. Musselman has a good second quarter winning going into halftime. It was a slow third quarter, very little scoring. The fourth quarter had a slow start as well but Washington began to press, causing Musselman to fold. A couple possessions go by but Washington hasn't done enough to get a lead; they are down by 12 with a minute remaining. The crowd chanted Isaiah's name wishing he could go in but sadly he couldn't. The team saw a Musselman win 43-34, giving the seniors one last regular season win at home.