Step Up Day Tradition Continues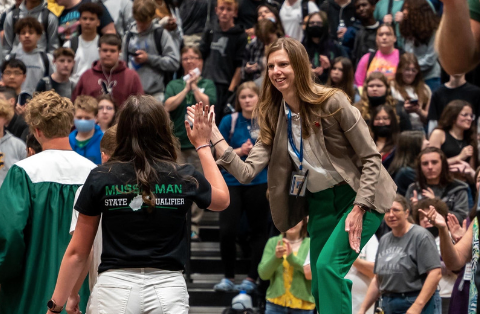 Step Up day is an annual tradition that reflects the coming of age for the seniors of MuHS which signifies the metaphorical "passing of the torch" to the next class in line. Each grade gets the flag of the upperclassmen above them. Seniors are also recognized and given awards based on feats and accomplishments. Once the ceremony ends seniors are unofficially finished with school, although May 19th is the official last day for seniors.
The event begins on May 17th, right after the athletic awards at 10am which will last about 45 minutes. Athletic awards are at 9am and are given out to athletes before the main Step Up day ceremony.
The person who will distribute the athletic awards will be Mr. Campbell along with the coaches. There is also another award that will be given out known as the Wall of Honor award. This goes to a teacher who has had the greatest impact for the current senior class. There are also awards based on merits achieved in electives such as music.
After the awards are all distributed, the student council president will give a speech, and then the will commence the passing down of the flags to the underclassmen. The new members of the Leadership, Student Council, and Student Body Officers will be announced by the student council president. Once that has concluded, the new student council president will give a speech and present the senior class gift. After the class gift is presented, the seniors are dismissed. Mrs. Brooks, who organized the itinerary of the event, had this to say, "I'm feeling pretty good about it. We've done some reorganization to help everyone have their moment."