Unsung Artist of the Month: Katherine Valdesalice
November's artist of the month is Katherine Valdesalice, a senior in one of Ms. Shirley's art classes. She was nominated by Ms. Shirley for her unique artistic talents and creative insight.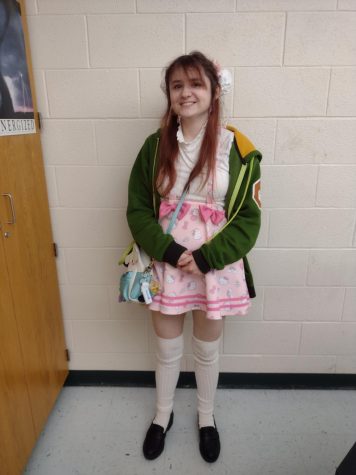 Katherine draws comic art pieces, mostly on her phone with her finger. However, she does occasionally use traditional paper and pencil. Her inspiration comes from other comics and sci-fi games.
Katherine feels she has improved most with her confidence, stating that "I no longer compare myself with others and see it as an opportunity to improve."
Comparing oneself to others is a massive pitfall for aspiring artists, and overcoming it is no easy task. Struggling with drawing different types of art content is a common issue and Katherine is no exception.
"Animals. They're a little wacky to draw. Maybe improve some realism and comic art skills."
Realism, while an inspiring subject for artists, is also extremely difficult. Realism is also present in comics, making the mention of it understandable for her work.
Katherine recommends that aspiring artists should, "Draw what you think is the wrong way to draw the limb first instead of trying to redraw it over and over again out of frustration. If you zoom out, for some reason…it
actually seems like the right way to draw it." According to Katherine, limbs are one of the more frustrating parts to draw.
When asked if there was any fun fact she wanted to share, she had an instantaneous reply. "Earth worms are freakin' cool man. Ever pick them up?"