Senior night shutout out for Volleyball
On Thursday, October 28th the Musselman Volleyball team took on Smithsburg High School. Our school honored the seniors on the team, and all of the hard work that they have put in during their time as part of the Volleyball program.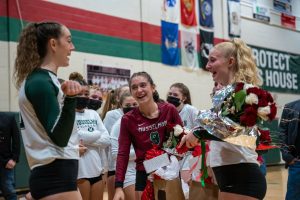 Before the game, the seniors Madigan Faircloth, Caroline Shipley, Sadie Wright, and Emma Kurnos walked the court with their families, and were given gifts by their younger teammates. The team started strong, winning the first set, and getting the energy going throughout the whole gym. Our girls continued to win the next two sets and ended the game quickly progressing to a 36-4 record.